The Warner Family and Friends walking in memory of Nicole Warner.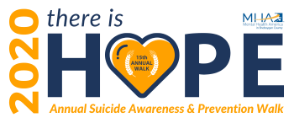 THANK YOU TO ALL OF OUR THERE IS HOPE 2020
SPONSORS, PARTICIPANTS, AND DONORS!
MESSAGE FROM OUR EXECUTIVE DIRECTOR
Greetings MHA Family,

Happy Fall! As we prepare for the changing season, we continue to highlight the ever-growing need for mental health conversations. COVID-19 continues to shed light on challenges in our world, and outside the devastating effects on physical health, shines the toll on mental health. Using this pandemic as a platform to discuss our mental well-being should be capitalized. Our county data reflects a 200% increase in our mental health screens since safer at home occurred. Our resources and referrals are overwhelmed by corporations and small businesses asking how to support their employees. We are continually evolving our programming and resources to meet the needs. We are in gratitude that our community is reaching out for support.

Last year, our county experienced the second-highest number of suicides in any given year. This September, our community honored the 15th annual There is Hope fundraiser with a record number of walkers. We can't do this work alone, and we appreciate each of you supporting the cause. A special acknowledgment to Doug and Kristi Luecke, who developed the walk 15 years ago in memory of their son, Nic. We thank you for your words and dedication to eliminating suicide. Don't miss the There is Hope 2020 Opening Ceremony Video. Now more than ever, each of us must take the time to check in with each other and ask the questions that may be needed if someone is not themselves.
"How are you emotionally doing?"
"What supports can I help you find?"
or if needed due to signs or symptoms, "Are you thinking of suicide?"
If you don't know how to ask these questions, but you feel they need to be asked, find someone who can ask the questions, or call MHA!

You are not alone. We are in this together. If you need reminders on how to be kind to yourself, go to MHA YouTube and click on any self-care videos. If you need resources, call us or go to the Community Resource Directory or our Therapist Directory.

I am always available if you want to connect and reflect on any matters in our community. The silver lining in this pandemic has been the incredible individuals I have met over the last eight months. Your stories and resiliency inspire me each day. I am humbled by your transparency through your grief, loss, and strength to move the needle forward with mental wellness. I am sending healing thoughts as we move forward each day.
With gratitude,

I continue to be honored and amazed by the work being done by the MHA Sheboygan County team. I have witnessed MHA respond to the overwhelming challenges of this year and react in positive ways to provide resources and connecting people to services throughout our community. The year of 2020 has become synonymous with hardships and losses. It's difficult to think of this year and not see the negatives. While it's easy to say that challenges and change force us to grow; it's much harder to accept that in our minds and hearts. In the coming months, we are to need to band together and take a hard look at how we want to move forward - as individuals, but also as an interactive culture that relies on each other - because we do rely on each other. I have no doubt that MHA will be at the forefront of these discussions, and they will continue to be leaders in ensuring that Sheboygan County addresses health and wellness in all aspects of our lives. For now, stay safe and embrace the well-being of everyone around you.
Sincerely,
Dr. Thomas Campbell
MHA Board President
During my almost six years on the board at Mental Health America of Sheboygan County, I have had the opportunity to meet and work with a number of wonderful people. In that span, I have worked with two outstanding executive directors, served under six dedicated board presidents, worked with several wonderful board members, and was blessed to know and experience the passion, dedication and devotion of the amazing MHA employees.
My time has allowed me to see the organization expand its community outreach in a number of ways. When my MHA journey began, some of the community services provided by the organization included phone support and resources, a free and very thorough Sheboygan County mental health and other critical services resource guide, a drop in day facility for guests needing support, support groups and other community resources, as well as an annual walk to bring awareness to suicide prevention. I was fortunate to see these resources expand into many of the school districts throughout Sheboygan County, where the team teaches children of all ages coping mechanisms through mindfulness tools and practices. MHA has also partnered with United Way to strengthen counseling services in many area schools through the PATH Program and offers a number of other community outreach programs such as mindful yoga. The team has also implemented many fantastic workplace wellness programs, providing resources and tools to employees throughout the county.
As my time on the board soon comes to an end, I will leave with many fantastic memories and amazing friends. I hope to remain connected to the organization, possibly through a committee and definitely as a supporter. MHA of Sheboygan County is a great organization. Thank you for your continuing interest and support!
Sincerely,

Adam Norlander
MHA Board Member
Mental Health Screening Saves Lives
Our screening tool has seen a 200% increase in tests, since the start of Safer at Home. MHA Sheboygan is meeting the needs of our community with resources and referrals. Our screening tool is not a diagnosis, but it can be a helpful tool for starting a conversation with your doctor or a loved one about your mental health.
If you think you or a loved one may be showing signs of poor mental health, CLICK HERE to take one of the screening tests. This tool is one of the quickest and easiest ways to determine whether you are experiencing symptoms of a mental health condition and offers personalized resources. Big bonus, it is FREE!
Do you like Podcasts? Check out the
"In the Open" Podcast
Each week, America and Theresa (and sometimes special guests) discuss a different mental health topic. The topics come from questions Mental Health America hears from people with lived experience with mental illness. Many of them come from questions asked by people who have taken mental health screens. The conversations are easily accessible to people are just beginning to learn about their mental health.